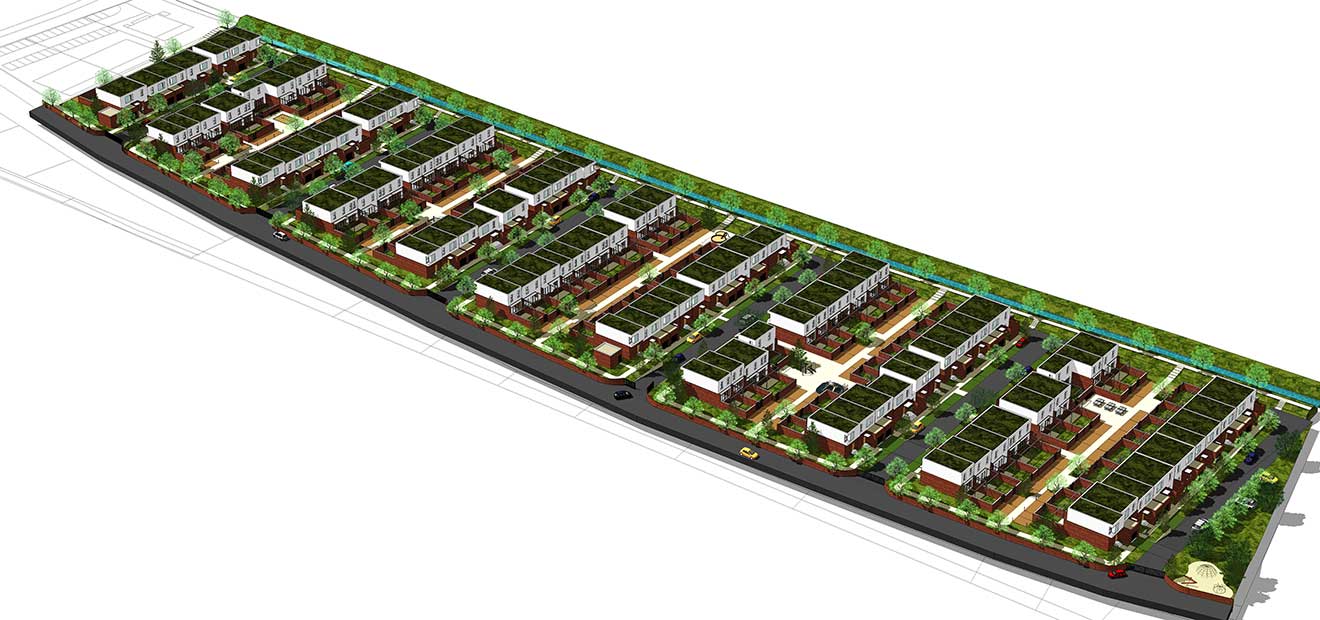 Phase II
Authors: Maja Momirov MSc Architecture, Slobodan Jović MSc Architecture and Nebojša Jovin MSc Architecture

Visualization: JHP_studio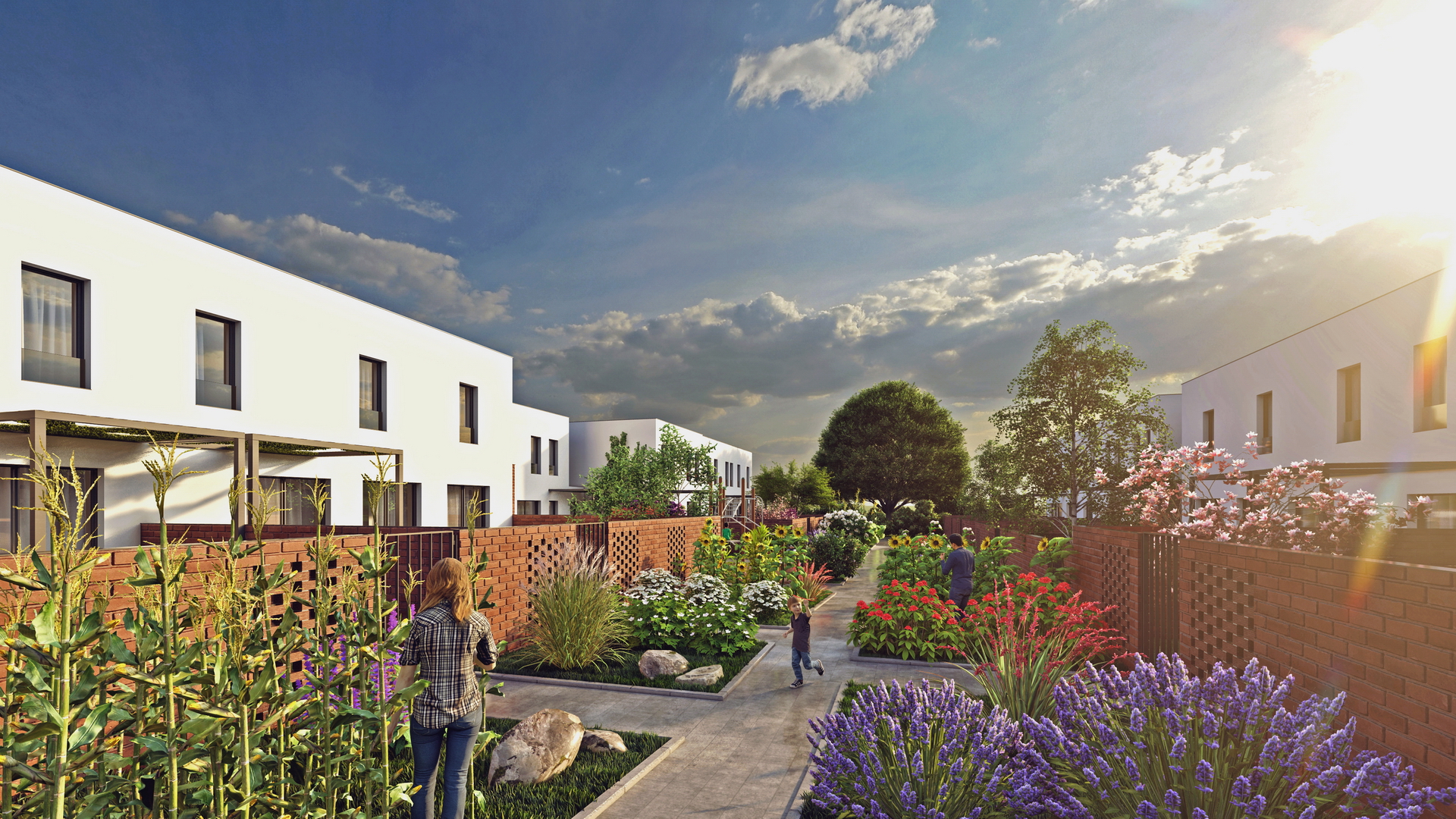 Solar Valley – Phase II includes 11.500 m2 of net living space and 620 m2 of net commercial space. Row houses are the dominant type of objects. All units are designed to provide several levels of privacy, as one of the specific topics of row houses design. The first and the highest level of privacy is certainly house itself, which is primarily oriented towards the inner space of the block with minimal fenestration on the facades oriented to access streets. The second level is a private backyard as the extension of the living room. All courtyards are surrounded by a brick wall, which is, in certain areas, perforated, providing additional air flow and light, that contributes to maintaining a sense of privacy, and at the same time, avoiding the unpleasant feeling of containment. The next level contains green areas and bio gardens that are positioned next to the private backyards. They represent the boundary, and at the same time, a connection between the private and common space. The whole set of pre-described spatial level is placed on the other side of each block, as well, leaving the pedestrian communication in the middle, connecting the two area boundaries, entrance and Rokov stream.
Additional amenities, such as grocery store and kindergarten, are located in three commercial-residential buildings at the entrance of the complex. Architectural materialization is chosen in accordance with the idea that nature is the dominant spatial element of Solar Valley. In addition to the light colored surfaces of the building facades, the houses are characterized with bricks as a natural material. The idea of the community, which was the basis of the design concept, is materialized through architectural element of a brick wall, which extends through all spatial levels, forming houses facades, front- and backyards fences, and through its partially perforated structure, represents at the same time the boundary between private spaces and the element that connects all into a single form. This shows the very idea of the essence of living in Solar Valley, a balance sense of privacy and community.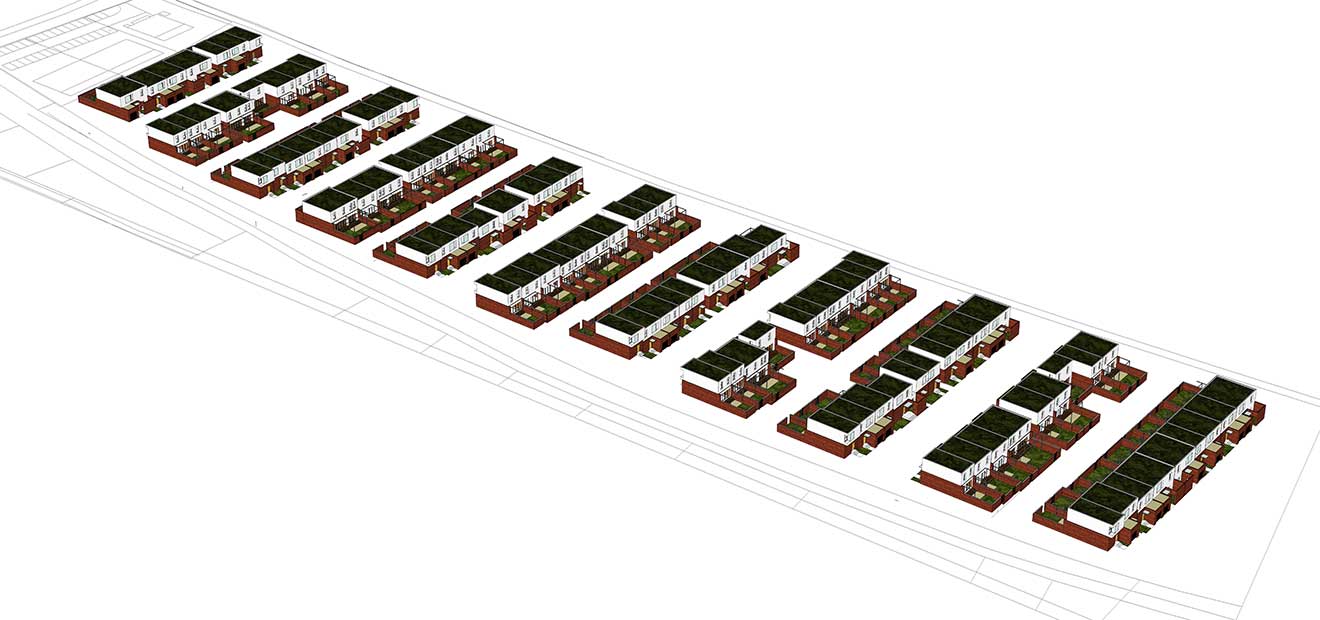 Row houses
Phase II provides a total of 100 housing units organized as row houses with private yards. Buildings occupy 28% of area, while private courtyards make up 18% of the area.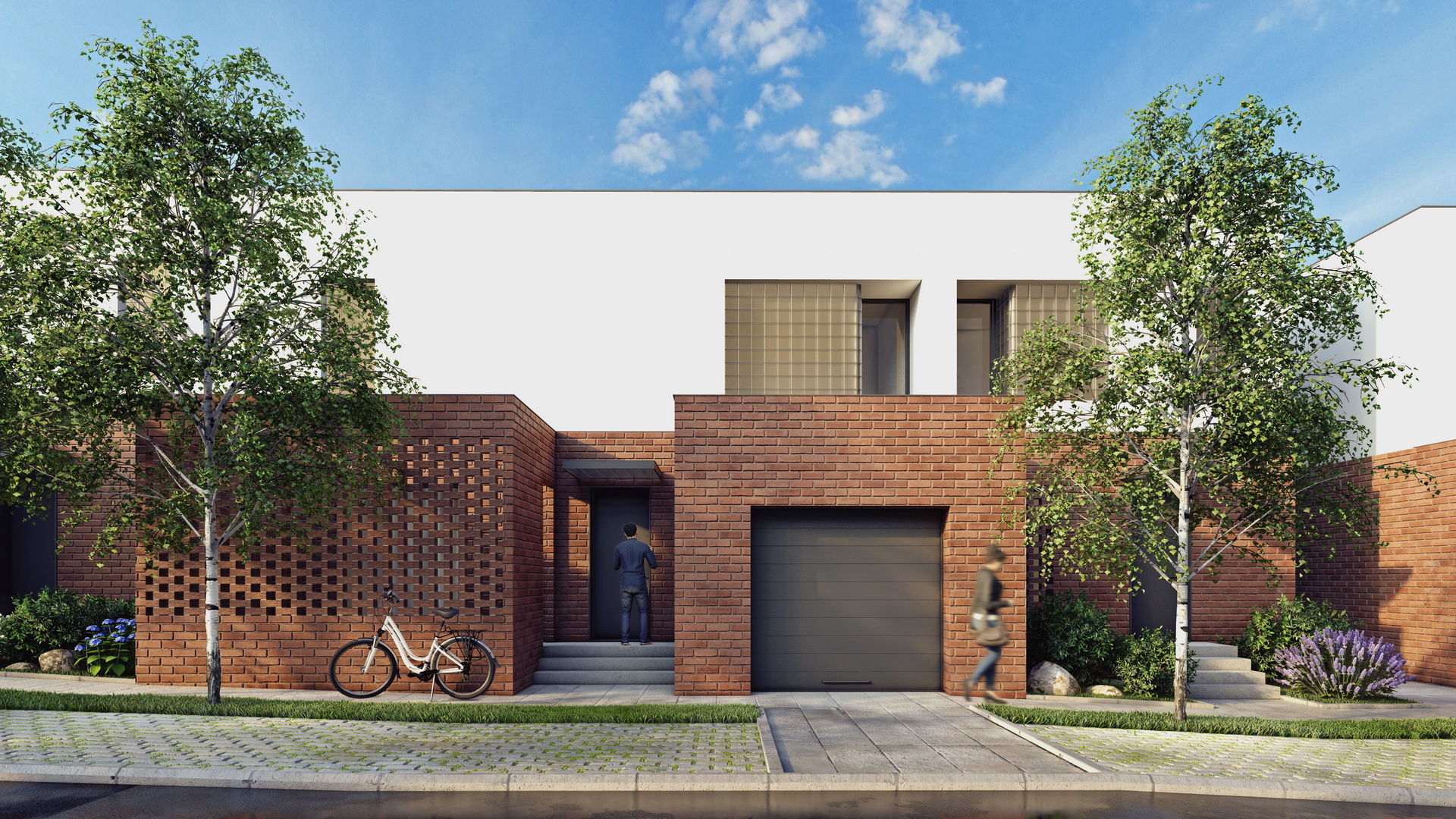 There are 3 primary types of houses (S, M and L) and 3 variations (Se, Sh and Mh), which are designed in order to provide spatial diversity, both in the plan and in the dynamics of street front, contributing to a better orientation and a spatial perception. The entrances to the residential units are withdrawn from the pedestrian paths leaving space for green areas and for some types of houses (Sh, Mh i L) for an enclosed front yards. Besides the residential houses, there are three residential-commercial buildings.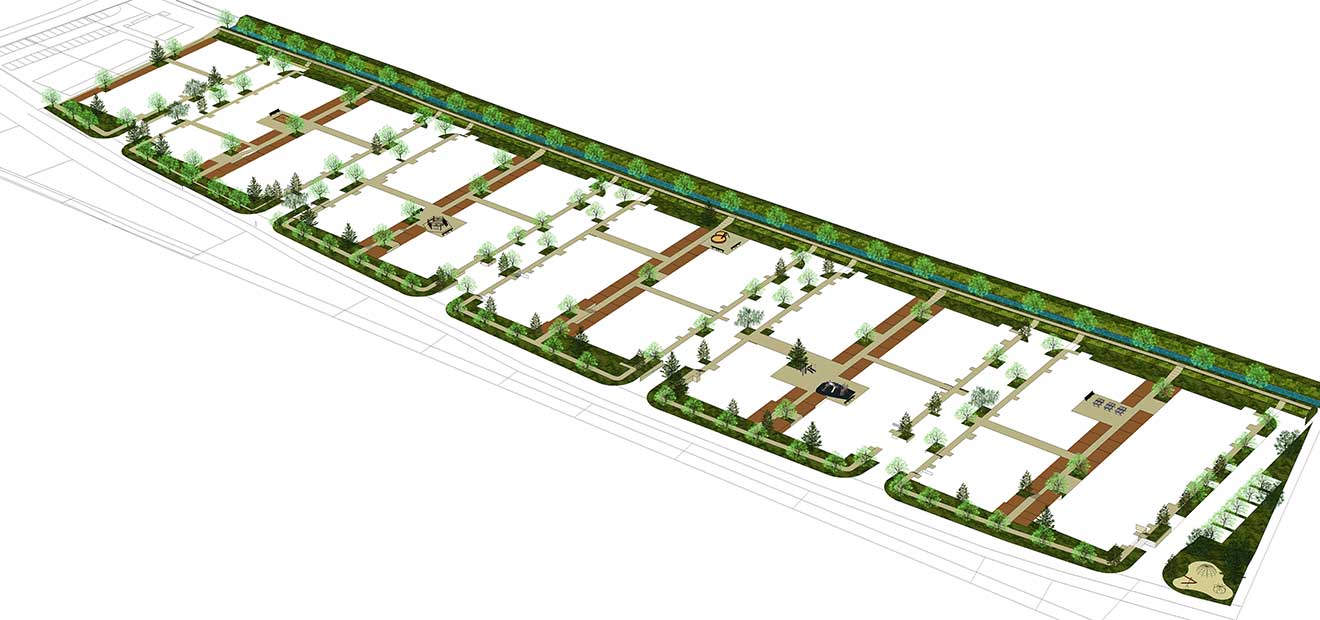 Common areas
More than 44% of the Phase II area is intended for pedestrian and bicycle communications, greenery, bio gardens and common outdoor areas.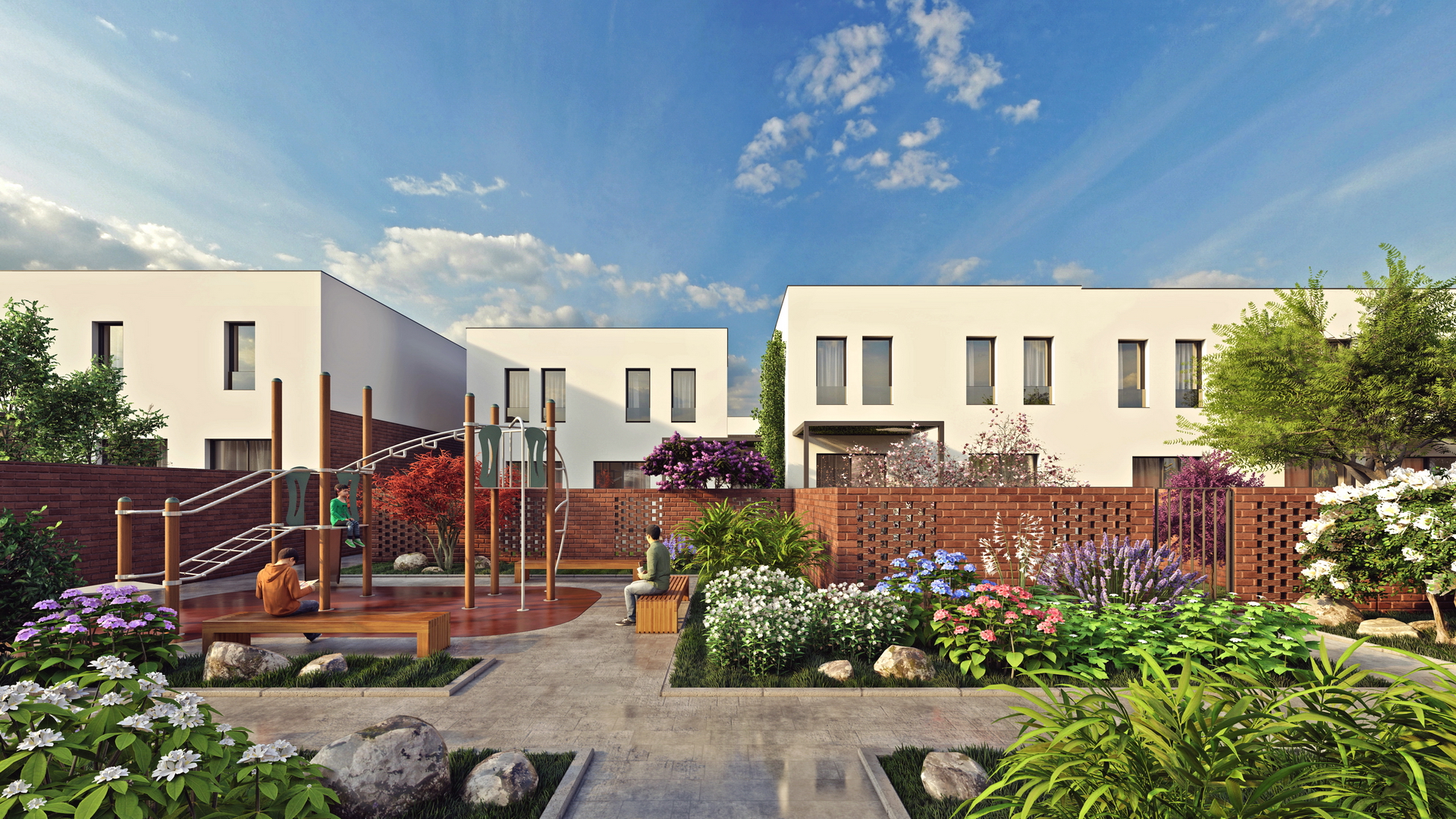 A network of pedestrian communications has been carefully designed to interwine through all the rows of houses connecting areas intended for socialization of residents (children's playgrounds, outdoor gym facilities, benches, table tennis, fountains, etc.) in the inner space of blocks, and pedestrian path along the stream that is designed as a joint and dominant walking direction.
Inside each block there are two rows of green areas surrounding pedestrian communications and socialization areas. Within green areas, spaces for bio gardens are also planned since a growing number of people nowadays is taking care of healthy living and quality food. This kind of set up enables the residents to cultivate food plants and not take up an area of ​​their private yards for this purpose but to use inner block areas with the highest level of insolation and a central irrigation system.
Bio garden plots that are not in use will be cultivated by the maintenance service, as well as all other common green areas.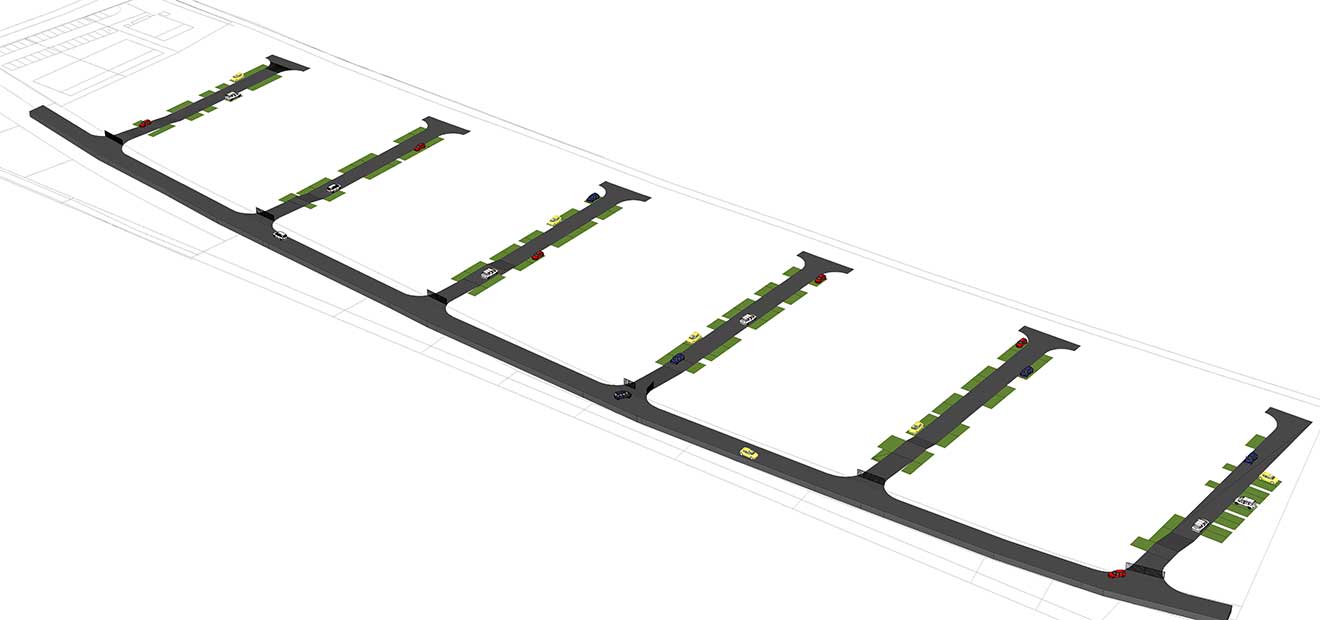 Infrastructure
Access roads and parking lots occupy 10% of the area.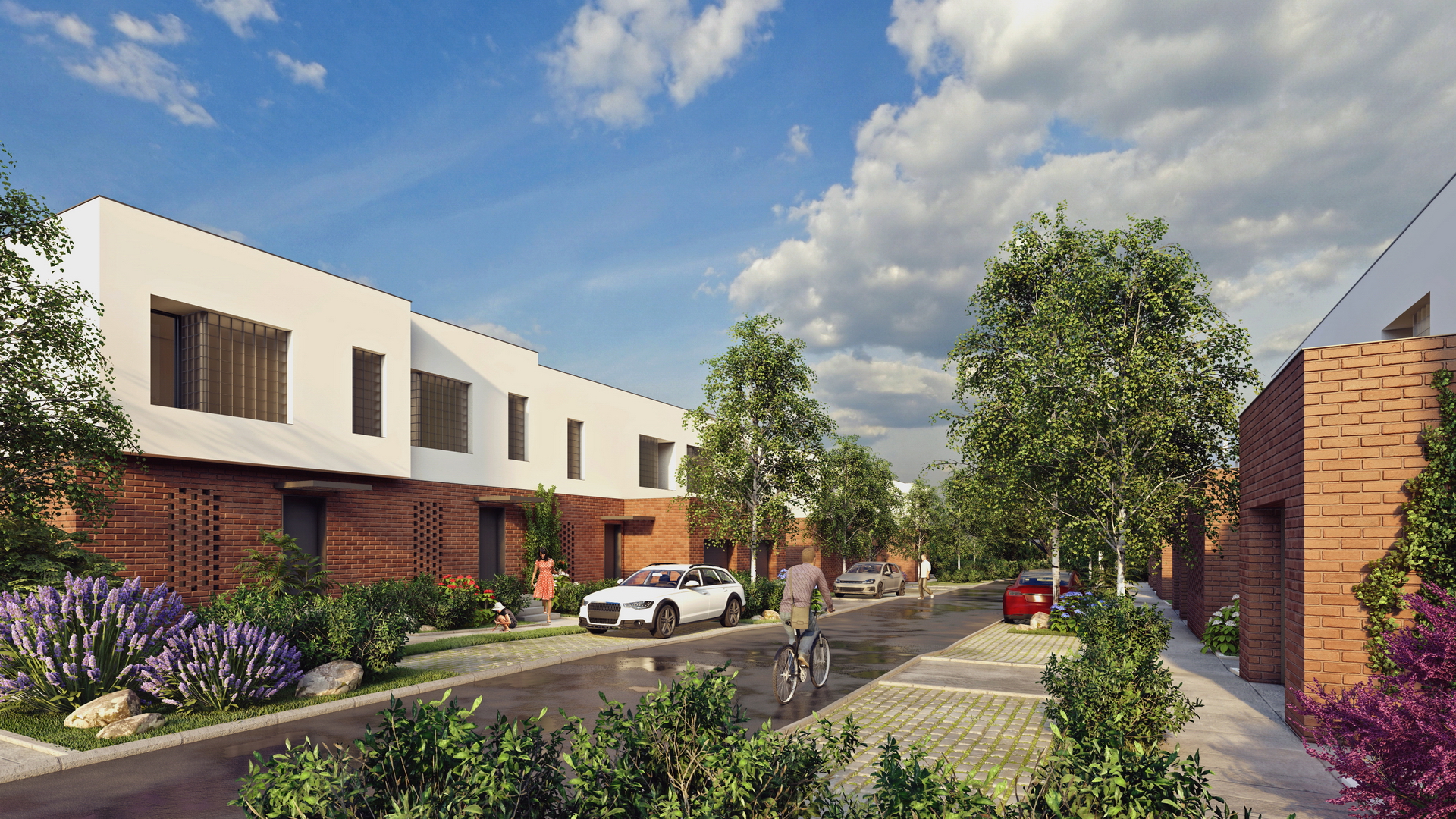 Solar Valley layout is conceived in order to minimize the surface intended for vehicular traffic, leaving spacious interior of the blocks exclusively for pedestrian and cycling communications, green areas and various common facilities.
Between access roads and pedestrian and bicycle paths on the outside of the blocks, there is a zone with alternating vegetation and parking spaces for residents and visitors.

Residential spaces
Bright and spacious - in direct contact with nature.
Living room with dining area and kitchen with height of 280cm, through glass portals opens directly to private courtyards.
Bedrooms and bathrooms are located in a more intimate atmosphere on the first floor.
Reduced color and high quality of implemented materials present the ideal basis for contemporary interior design.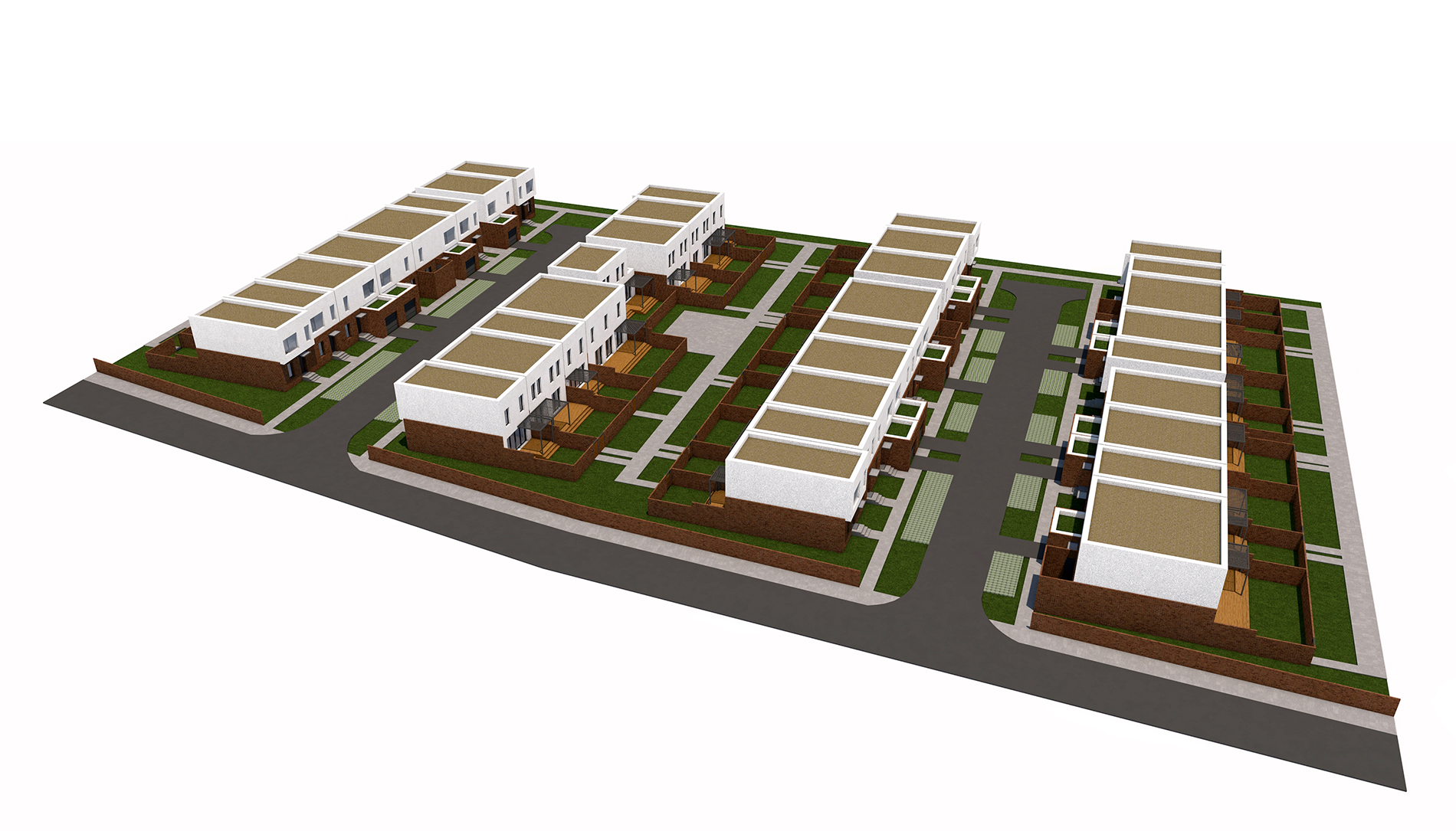 Streets A and B
Phase II of the Solar Valley housing project begins with the construction of streets A and B.
These two streets contain a total of 34 residential units, of which 16 are in street A and 18 in street B. A choice of 5 different types of housing units offers a variety of living spaces, meeting needs of families of different structures. In addition to the buildings that occupy less than 30% of the plot area, streets A and B contain private yards, common green areas, children's playground, parking spaces and access roads.
Construction is scheduled for the beginning of 2022!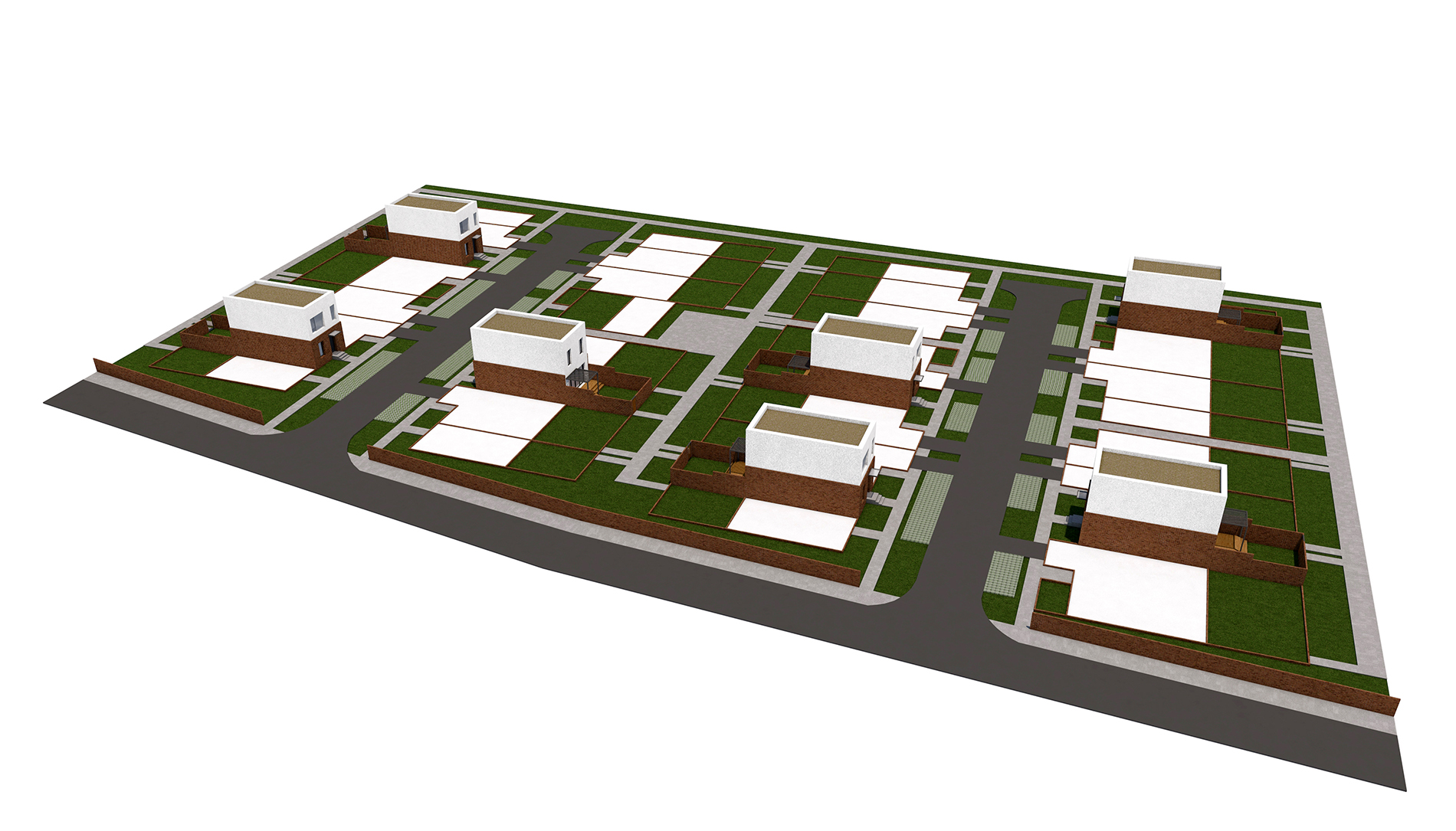 House Type // S
Four-room unit of 96 m2 with a terrace of 13 m2 and a private yard of 25 m2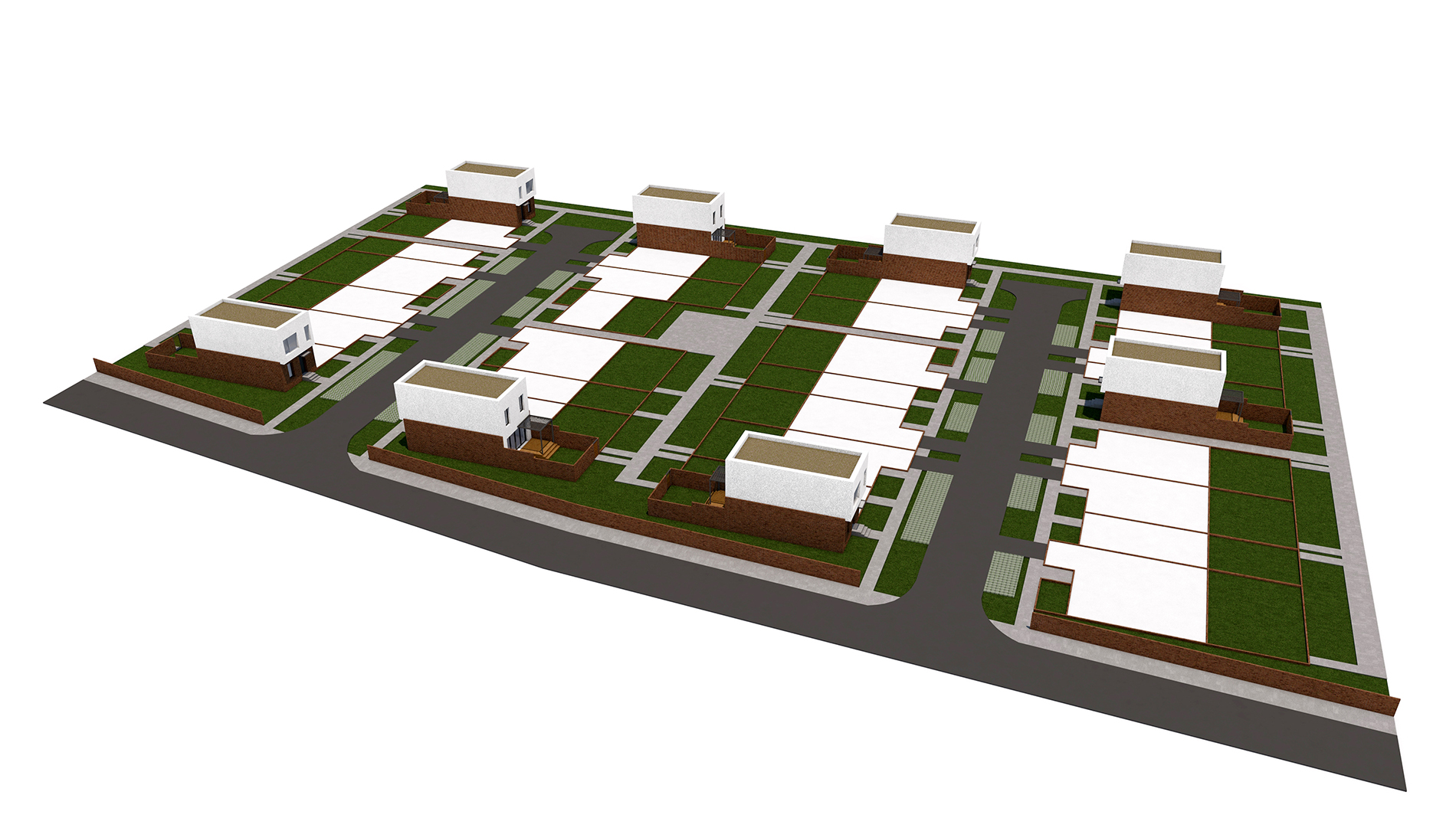 House Type // Se
Four-room unit of 98 m2 with a terrace of 13 m2 and a private yard of 25 m2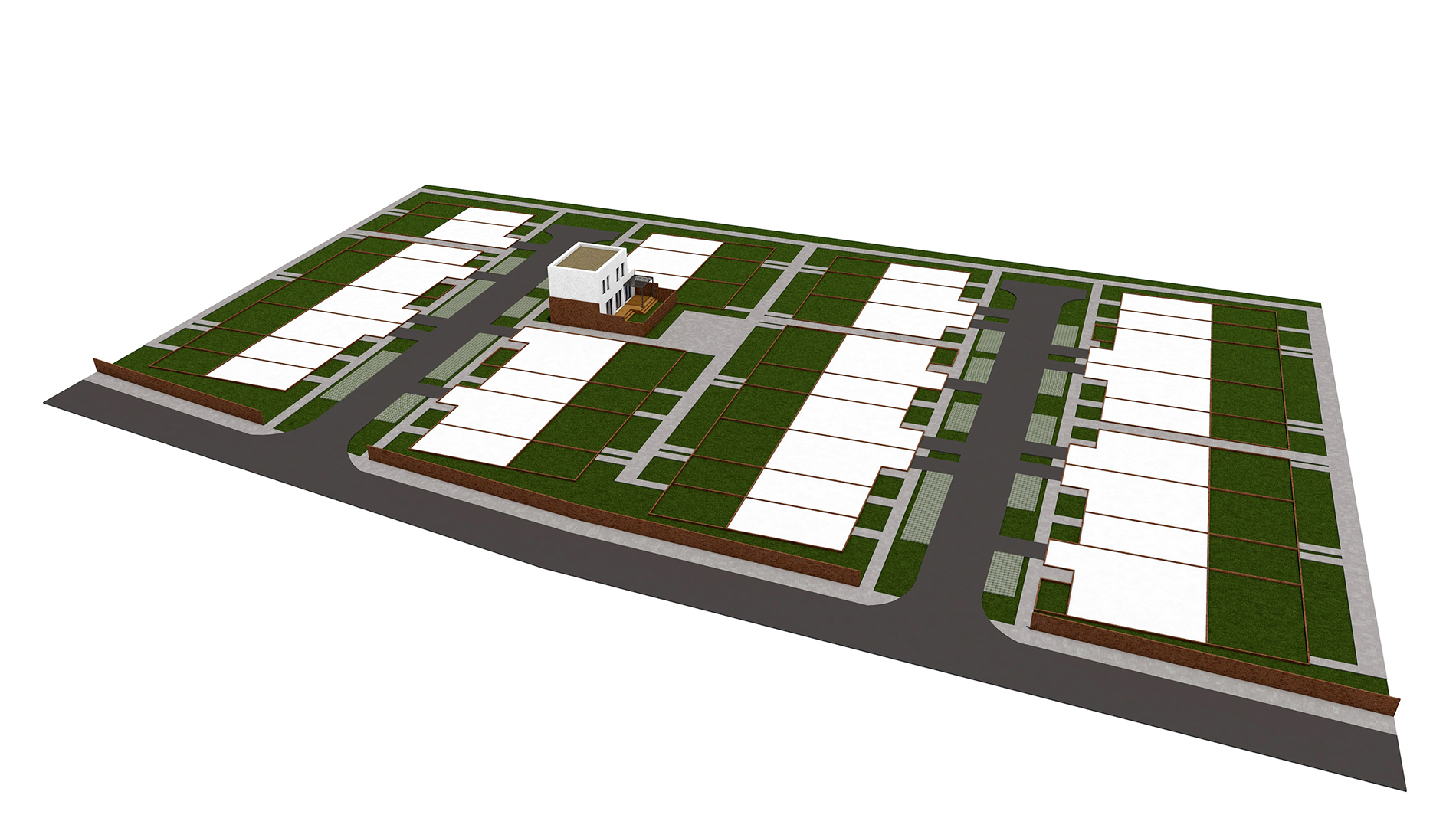 House Type // Sh
Four-room unit of 107 m2 with a terrace of 23 m2 and with two private yards, front yard of 11.5 m2 and back yard of 30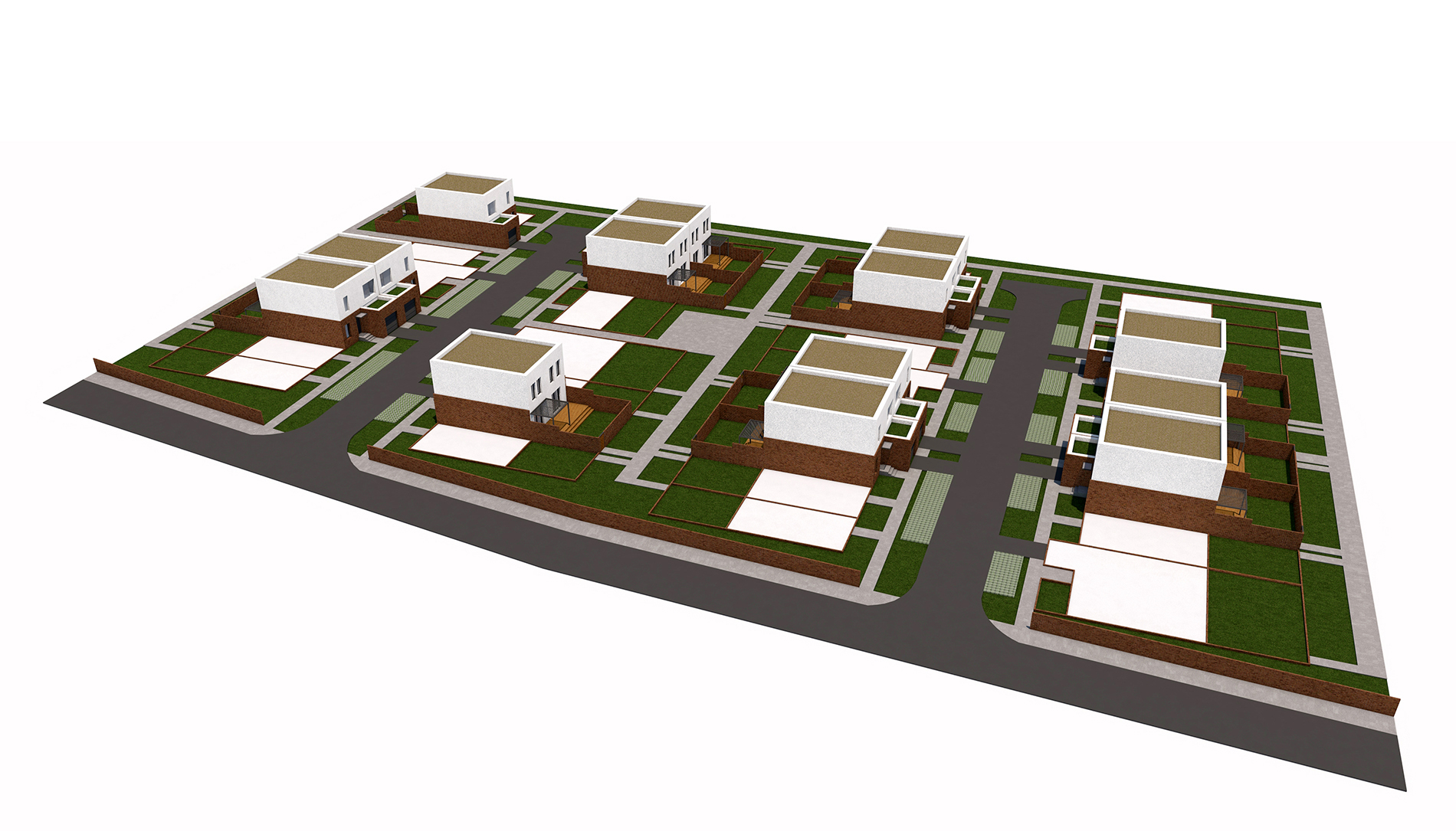 House Type // M
Four-room unit of 154 m2 with a garage of 20 m2 and a terrace of 23 m2 and a private yard of 33 m2

House Type // Mh
Five-room unit of 112 m2 with with a terrace of 23 m2 and with two private yards, front yard of 8.5 m2 and back yard of 26 m2. Front yard provides a separate entrance to the guest room or home office. HOUSE TYPE Mh IS NOT AVAILABLE WITHIN STREETS A AND B
House Type // L
Six-room unit of 206 m2 with a garage of 18.2 m2 and a terrace of 31 m2 and with two private yards, the main private yard of 41.5 m2 and a front yard of 10 m2. Front yard provides a separate entrance to the guest room or home office